2022 Canadian Trapshooting Championships
Calgary Firearms Centre, Calgary, Alberta
June 29 - July 3, 2022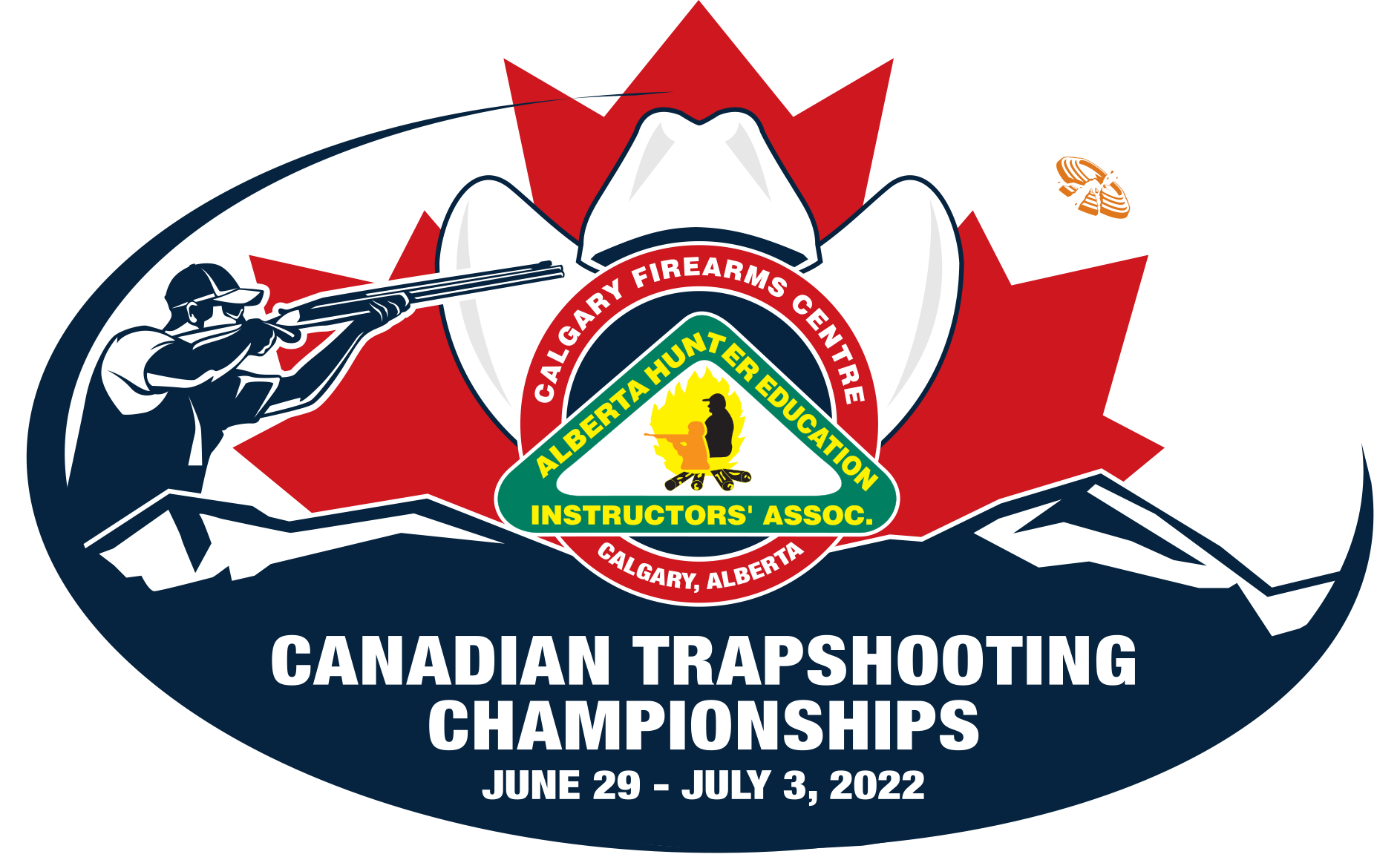 The Host Club
The Calgary Firearms Centre (CFC) in Calgary, Alberta hosted the 2022 Canadian Trapshooting Championships June 29-July 3. The five day, 1000 target shoot attracted the top shooters from across Canada and had all six ATA Canadian Provinces represented. The Canadian ATA Provinces are British Columbia (BC), Alberta (AB), Manitoba (MB), Ontario (ON), Quebec (QC) and the Atlantic Provinces (AP) which combines the 4 most eastern provinces of New Brunswick, Nova Scotia, Prince Edward Island and Newfoundland and Labrador.
The Calgary Firearms Centre is operated by the Alberta Hunter Education and Instructor Association (AHEIA). The not-for-profit organization works to educate the public on the importance of protecting the places and wildlife of Alberta and has been providing conservation and outdoor education to Albertans since 1964.
The goals and objectives of AHEIA are to:
promote the highest standard of sportsman behaviour.
teach and promote the ethical and humane treatment of fish, wildlife, and all other living creatures.
support the improvement of conservation education.
promote hunter education curriculum and instruction development.
promote communication among all instructors in the conservation education and hunter education programs.
promote affiliation with conservation and hunter education interest groups
AHEIA President Bob Gruszecki contributed significantly to the success of this year's shoot. The many months of planning, organizing and planning was evident as everything was in order when shooters arrived. Bob had plenty of help during the shoot and was supported by Joey Gruszecki (IT Support / Shoot Registration), Gert Holmqvist (Manager CFC) and CFC support staff Taryn Kerr, Kavi Paramanathan, Diane Kendall, the friendly kitchen staff and a group of very polite and excellent trap help and scorers. The entire AHEIA team are to be congratulated for hosting a very well run shoot.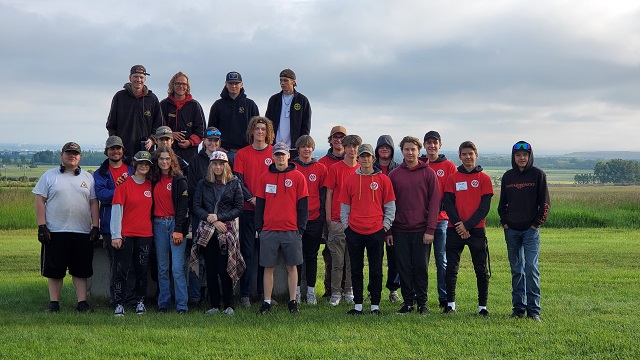 The Calgary Firearms Centre offers a large clubhouse fully equipped with a pro shop and canteen. The grounds are nicely kept and the ten program traps are equipped with voice release systems and pat traps. There's also plenty of sites for those travelling with motor homes.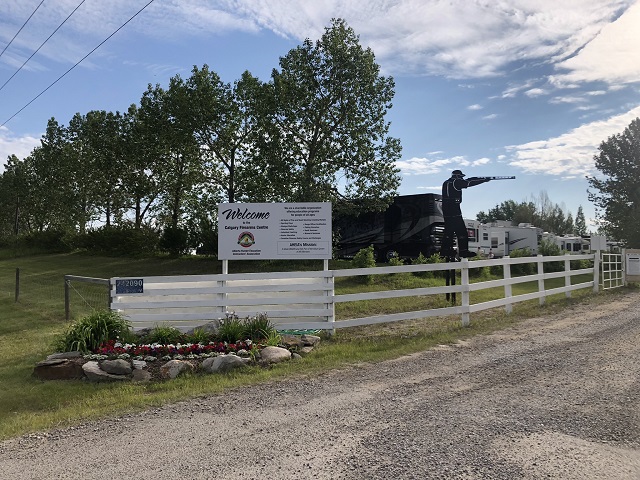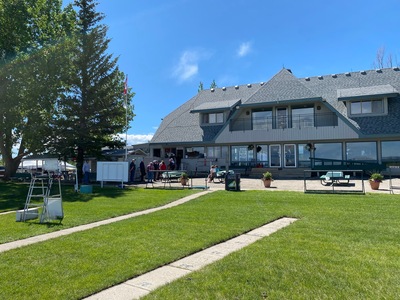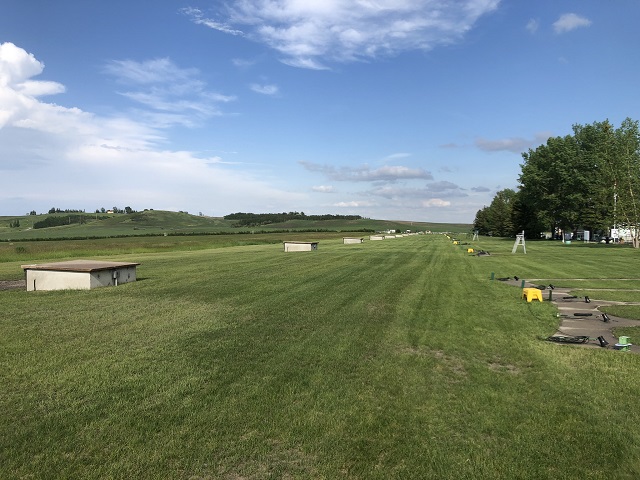 The shooting background at the Calgary Firearms Centre is a mix of rural residential and farm country with the city of Calgary and the Rocky Mountains off in the distance. The club is at a higher elevation than the surrounding terrain and targets seem to float in the sky.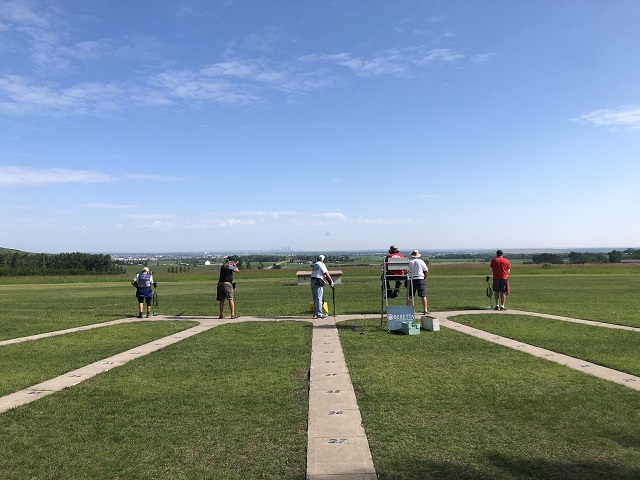 Shoot Results
For this year's shoot, the 600 target preliminary events were held over 3 days to work within the Calgary Firearms Centre's allowable operating hours. On Wednesdays and Thursdays, shooting cannot start before 12 noon and on Thursdays, shooting must end by 6 PM. All other days, shooting can start at 9AM and end by 9PM.
The Preliminary Singles and Preliminary Handicap events were held on June 29, the Preliminary Doubles and Pat Lamont Doubles on June 30 and the Chris Tsementzis Singles and Clarence Durr Handicap on July 1. The revised shooting schedule was a nice change from the traditional 300 target days and allowed shooters to enjoy their time in the Calgary area and catch up with shooting friends under the refreshment tent.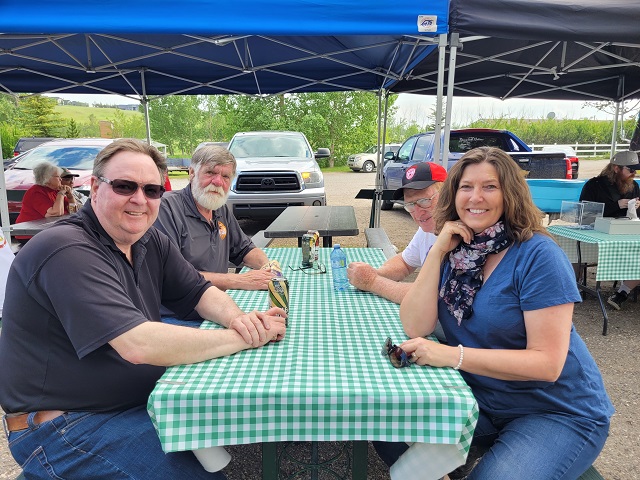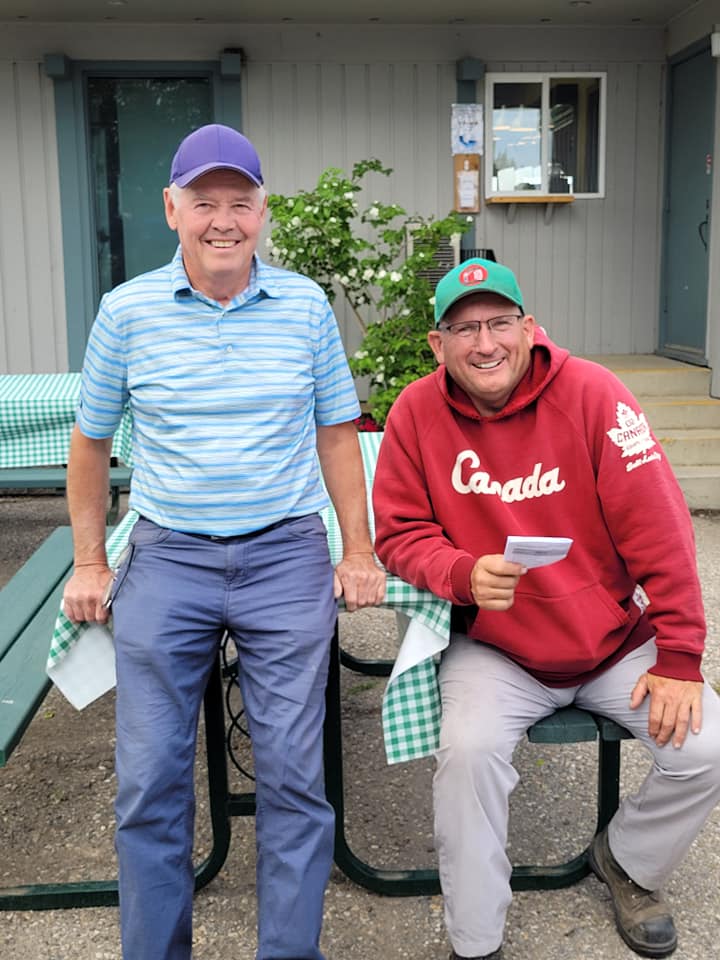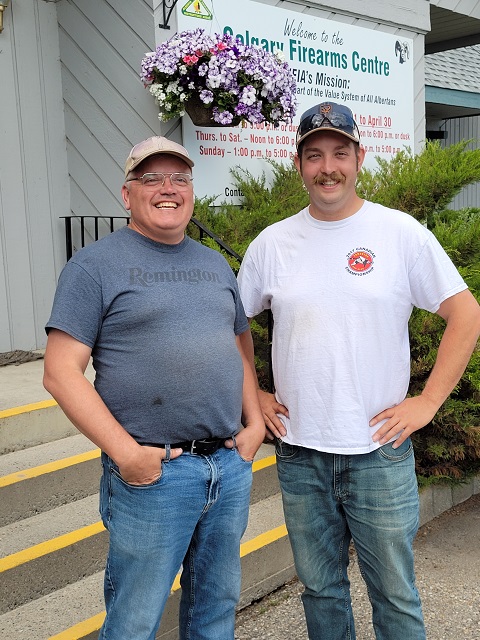 The Preliminary Singles event had 90 entries and Pat Lamont scored the lone 100 to claim AAA Champion. Alberta's Garry Hill, the Central Handicap Committee Western Zone member, claimed AA honours with a 99. Ontario's CTA Delegate Josh Faubert and British Columbia shooter Harrison Yurkiw tied for top spot in A Class with 98s. Josh won in the carry-over 25-24. Ontario's Ed Chamberlain claimed B Class winner while David Wark (AB) and Miles Grumetza (AB) claimed C and D classes respectively.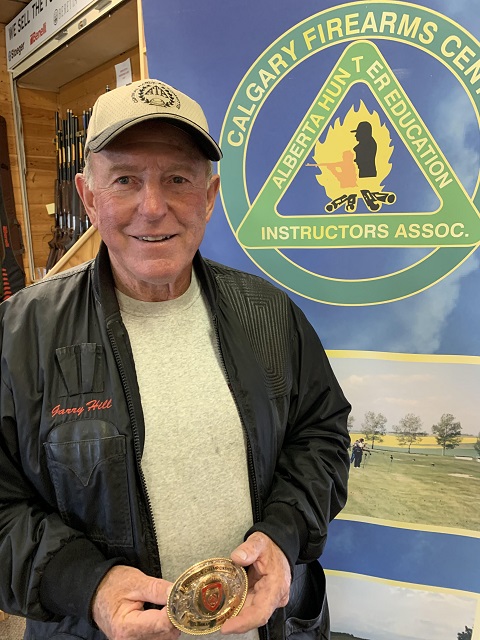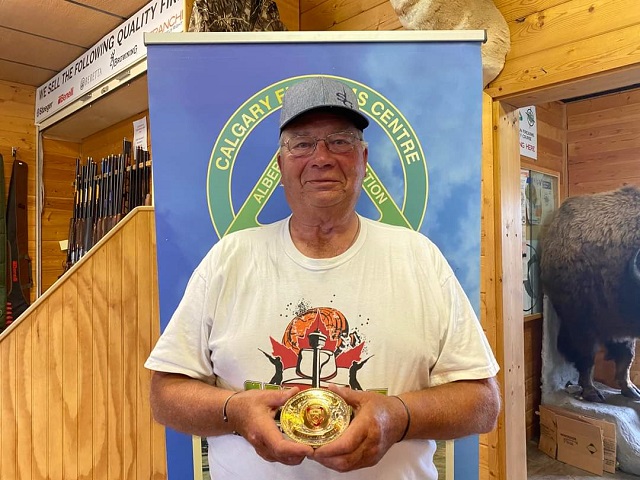 In the Preliminary Handicap event, Alberta's Ed Wittemann scored a 97 over a field of 82 entries to claim the Champion award. British Columbia's Arjun Batth, shooting in his first ATA shoot, claimed runner-up with a 96. Finishing third to fifth were Harrison Yurkiw (BC), Darin Schuler (AB) and Trevor Dawe (AB). All three had shot 95s and needed a shoot-off to settle the results.
Both of Wednesday's doubles events had 76 entries. Pat Lamont (MB) claimed AAA Class in the Preliminary Doubles with a 97. In AA, there was a 4-way tie with 97s between Troy Coldwell (AP), Kahl Boll (SK), Garry Hill (AB) and Jacob Johnson (AB). Coldwell won after the carry-over. Alberta CTA Delegate Jesse Smith had the high score for the event and claimed A class with a 98. Quebec's CTA Delegate Godefroy Cardinal claimed B Class. Daniel Kachmarski (SK) and Rod Hymas (AB) were the C and D Class winners.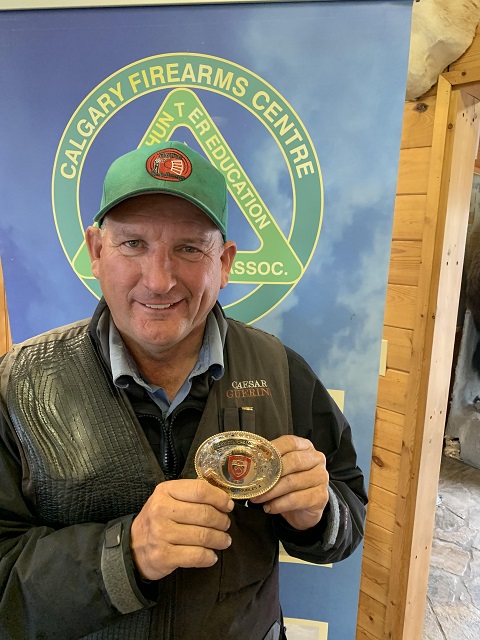 In Wednesday's Pat Lamont Doubles, Pat Lamont (the 2021 Canadian Doubles Champion) scored a 100 to win AAA Class. Saskatchewan's Randy Hunt won AA Class and Alberta's David Shiers won A Class. Carry-overs were needed to determine B and C Class winners. Congratulations to Tim Kachmarski (SK) and Harry Humby (MB) for winning B and C respectively. British Columbia's Arjun Batth won D Class.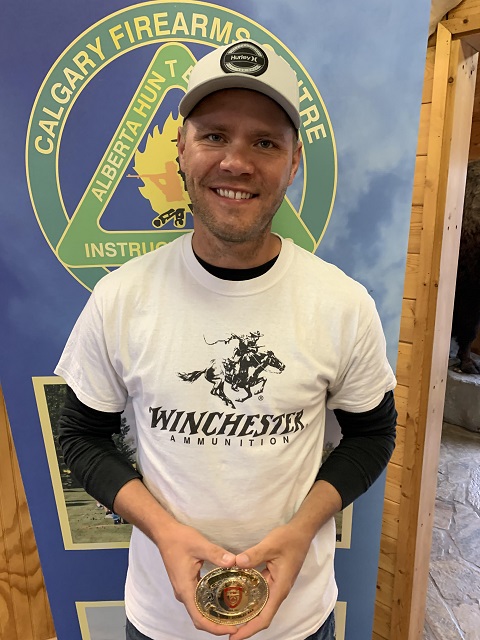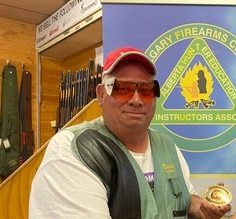 In Friday's Christos Tsementzis Singles, Alberta's Tom Foss, Manitoba's Katie Jones and Saskatchewan Junior Gold shooter Logan King all scored 100s. There were also ten 99s recorded in the event with 107 entries. Shawn McNeil (AB) took AAA Class with a 99 while Jones won AA Class after the carry over with Foss (25-25 vs 25-23). Logan King (SK) won A Class and Alberta shooters Paul Lambrechts, Miles Grumetza and Cameron Schole claimed B, C and D Class.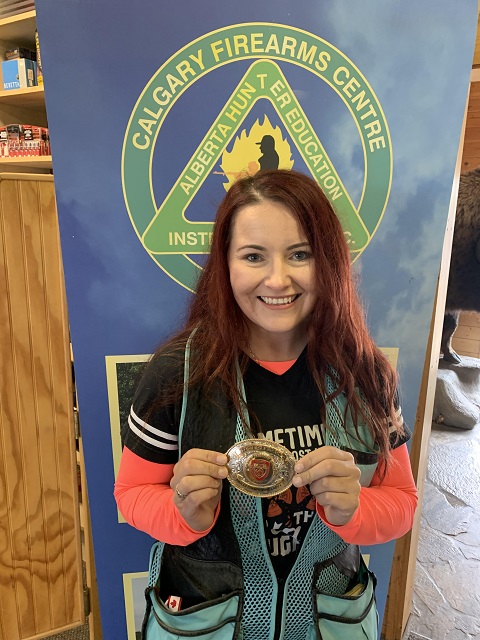 Reg King (SK) shot a 96 for Champion over a field of 103 entries in Friday's Clarence Durr Handicap. Pat Lamont (MB) took runner-up with a 94 while 3rd through 5th places were settled after a shoot-off with the scores of 93s. Troy Coldwell (AP) scored a 23-24 in the shoot-off to claim 3rd over 4th place winner and Manitoba CTA Delegate Jason Sparwood (23-23). Tom Foss took 5th place over fellow Alberta shooter Ron McConnell after both shooters dropped out in the first round of the shoot-off.
The Canadian Singles Championships held on Saturday, July 2 had 122 entries. Saskatchewan's Kahl Boll posted the lone 200 for the win which completed Kahl's win of all five CTA championship trophies. His dad Rod completed this feat in 2019 by winning the Handicap Championship in a shoot-off win over Kahl.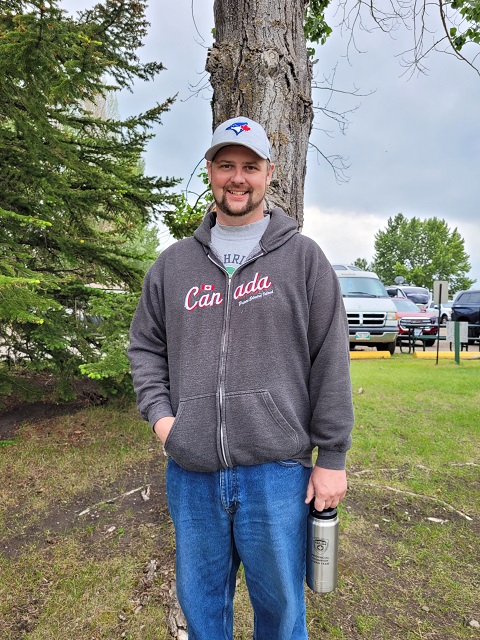 Pat Lamont (MB) and Jason Weaver (AB) each scored 198 to force a shoot-off for Runner-up and Open Champion. With thunderstorms looming, the pair took to the line while it was still safe to do so. Weaver missed a target on the first station and it looked like it would be over quickly. However, Lamont also recorded a loss and the pair continued to put on a show for all those watching. The targets became more challenging as the shoot-off went on as the wind picked up and the sky darkened. After six shoot-off rounds, Lamont's 24-25-25-25-24-25 over Weaver's 24-25-25-25-24-24 was good for Runner-up, leaving Weaver as Open Champion.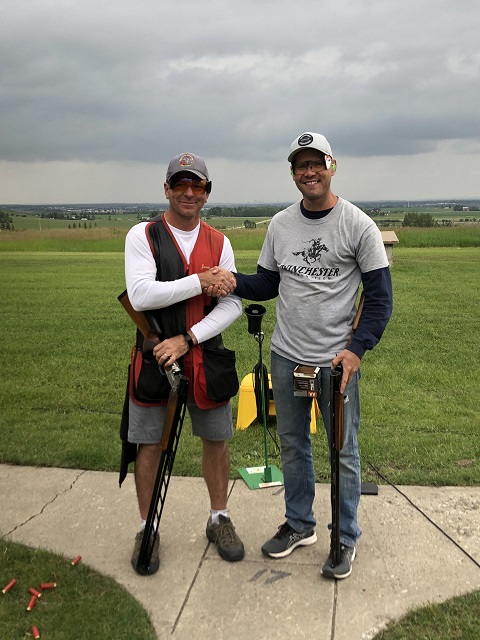 Category shooter Ron McConnell (AB) missed one target for a 199 and won the Senior Veteran trophy. Katie Jones (MB) won Lady I and Lisa Salt (BC) won Lady II. Saskatchewan's Gerald Whitehead won the Veteran title after a shoot-off with Alberta ATA Delegate Jim Thomson and Ontario's Jim Lee. Alberta shooters dominated the remaining category wins with William Lecuyer winning Sub Junior, Hanna Marthaller taking Junior, Austin Bec Junior Gold and Michael Kwan winning the Sub Veteran honours.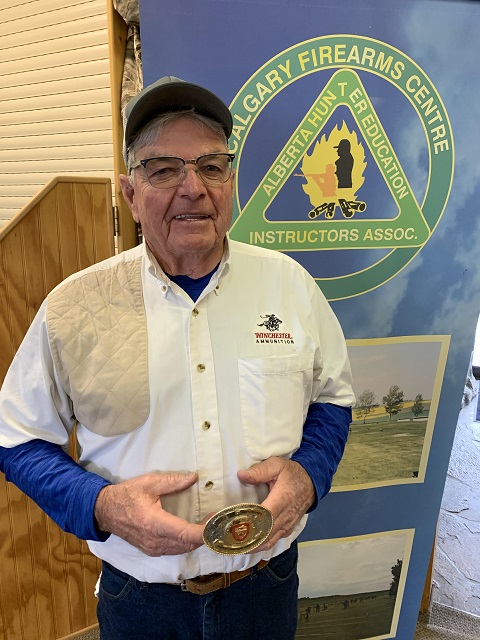 Team Manitoba won the Provincial Singles Team competition.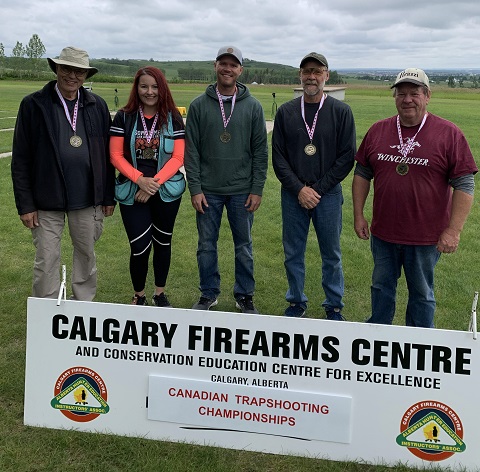 Kahl Boll (SK) and Pat Lamont (MB) each scored 99s in the Canadian Doubles Championship held on Sunday, July 3 forcing a shoot-off for Champion and Runner-up. Lamont prevailed 19-20 over Boll's 19-19 to claim the Championship. Troy Coldwell (AP) and Arjun Batth tied with 96s. After a one round shoot-off, Coldwell claimed the Open Championship and Batth won C Class. Alberta father and son shooters Brad and Jacob Johnson tied for AAA Class with scores of 93. Jacob out shot dad in the one round shoot-off to claim AAA Champion. Alberta's Jesse Smith and Tom Foss won AA and A respectively. Dom Stevens (BC) took B Class while Saskatchewan's Brooke Kachmarski claimed D Class.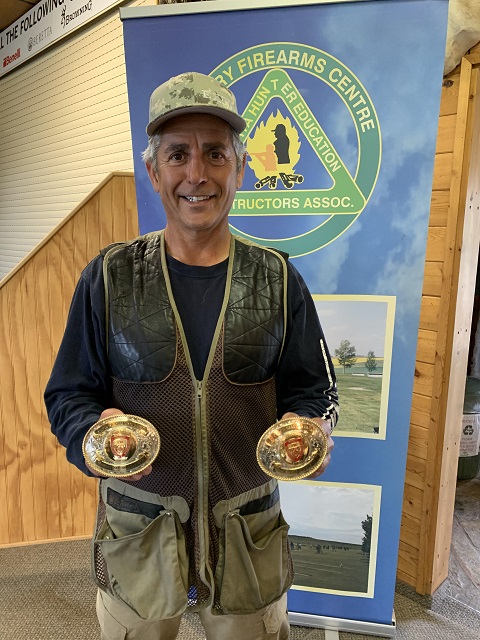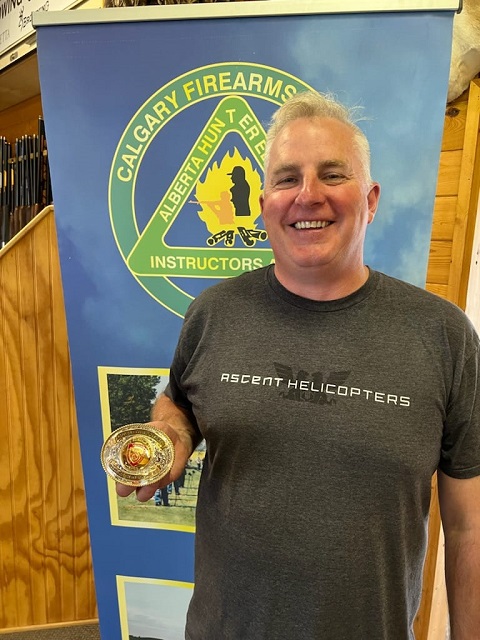 In Sunday's Canadian Handicap Championship category declarations, ties and the many possible scenarios kept the shoot committee busy sorting through the winner's list and organizing shoot-offs. After all shoot-offs were completed, Alberta shooters claimed all but three Handicap trophies.
Pat Lamont (MB) and Ron McConnell (AB) tied with the event's high score of 96 to force a shoot-off. Lamont won the shoot-off to claim the Handicap Championship. McConnell claimed Senior Veteran Champion for a clean sweep of all Senior Veteran trophies in the Championship events. Alberta shooters Barry Johnston and Jason Weaver tied with 95s. Johnson claimed Runner-up after the shoot-off and Weaver took Open Champion. Lynn Smith (AB) claimed Lady I and Emily Brown (ON) won Lady II. Lorne Umscheid (AB) claimed Open Champion and Alberta shooters Darin Schuller, Ed Wittemann and Shawn McNeil took 3rd through 5th places. Manitoba's Katie Jones won 6th place.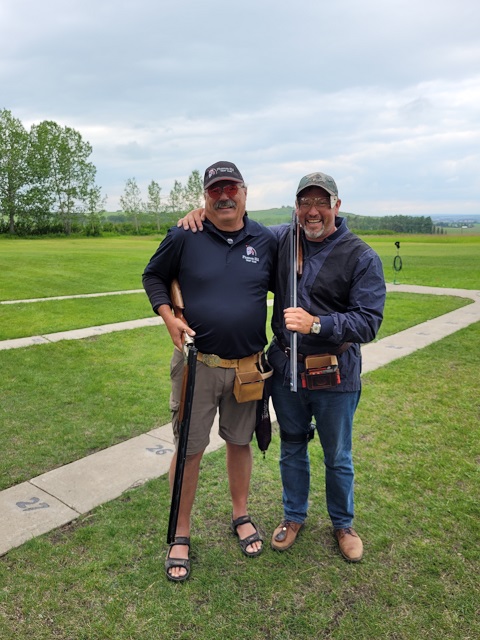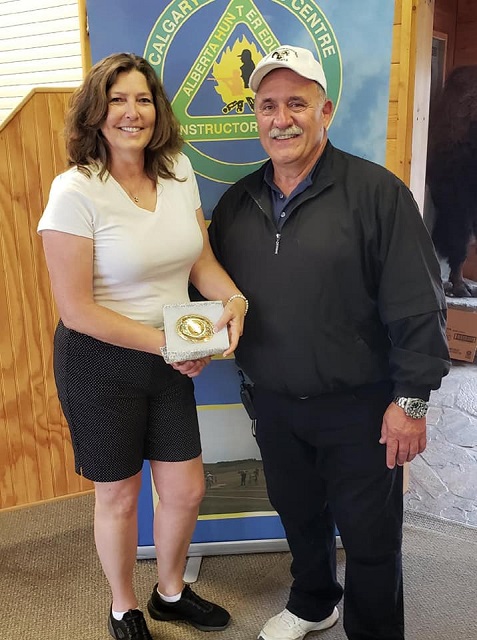 Pat Lamont (MB) won the High All Around with a 393 and Jason Weaver (AB) posted a 387 to claim Runner-up. Kahl Boll (SK) won the Open Champion with a 386 and Alberta's Barry Johnston took Open Runner-up with a 383. In the High Over All race, Lamont posted a 975 for the win and Alberta's Garry Hill won Runner-up with a 954.
Complete event scores and results are available in the CTA Scoreboard on the CTA website - www.shootcanada.ca.
Shoot Highlights
There were several personal bests and milestones recorded during the 2022 Canadian Trapshooting Championships. In the Canadian Singles Championship Junior Champion Hanna Marthaller shot a personal best of 191 and Alberta's Carter Hansen shot his first 25 straight. Saskatchewan's Tim Kachmarski also recorded his first 100 straight in singles competition.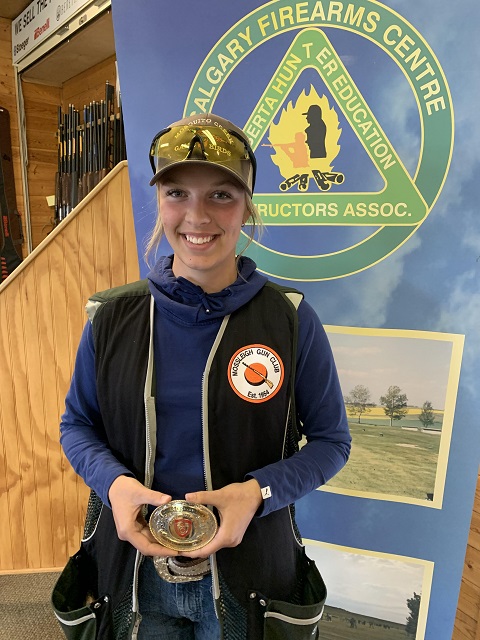 Jason Weaver is originally from Weymouth, Nova Scotia but now shoots out of the Longest Mile Range operated by the Edson Fish and Game Association near his hometown of Edson, Alberta. The Alberta All Star had a great shoot. His 95 in the Canadian Handicap Championship earned him a punch to the 27-yard line and his 387 in HAA was a personal best. When asked about the shoot and the Singles shoot-off against ATA All American Pat Lamont, Jason commented "I'd like to give a big thanks to Patrick Lamont for being a fantastic sport. Getting to be on the line in a shoot off against one of the best in the world was definitely an amazing experience and a highlight in my shooting achievements. I'm hoping if there is a next time, for the outcome to be in my favour!"
Up and coming British Columbia shooters Arjun Batth and Harrison Yurkiw also had great shoots. In British Columbia, many shooters are members of the Pacific International Trapshooting Association and the ATA, cross registering targets when the opportunity arises. Arjun started out shooting recreationally with his dad, Preet, and began shooting PITA targets in September 2021. The Canadian Championships were the Batths' first ATA shoot. Harrison Yurkiw began shooting ATA targets in 2021 and PITA targets this past April. Harrison's scores were at the top of the leaderboard in many events at this year's shoot. His Preliminary Handicap 3rd place earned him his first CTA trophy, and his HAA of 374 and HOA of 922 are equally impressive. BC Trapshooting Association President Mike Ramsay describes Arjun as a super nice guy, very soft spoken and a good guy to have around the sport, and Harrison as always having a smile on his face and a very keen interest in the sport. Mike goes on to say that we can expect to continue to see both in the winner's circle.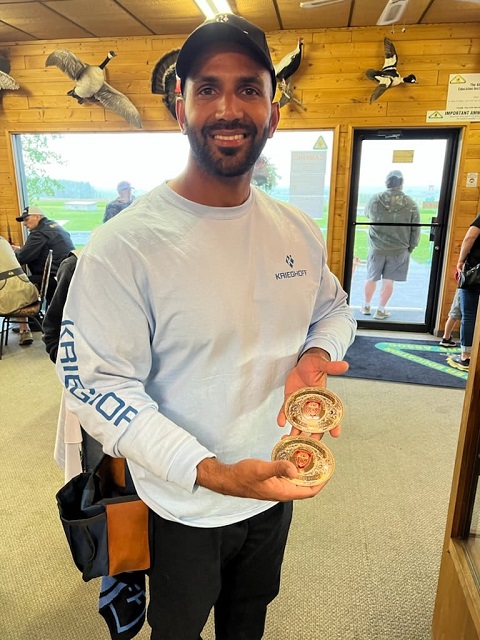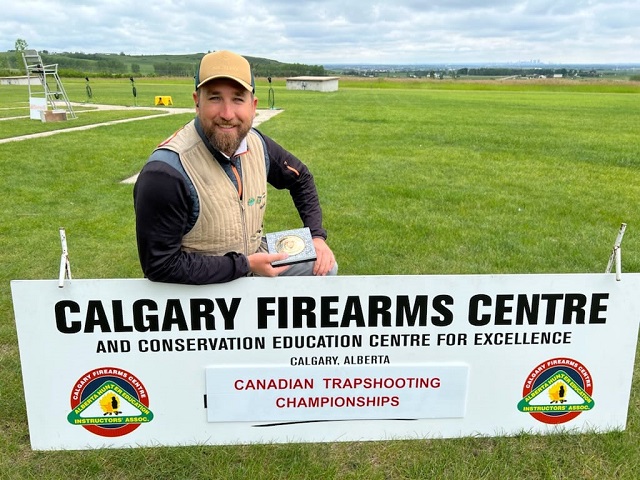 Alberta's Darin Schuller joined the ATA in 2020 and the 2022 Canadian Trapshooting Championships was his first time time competitiong in Canada's national shoot. His 94 in the Canadian Handicap Championship was a personal best handicap score for Darin and earned him 3rd Place honours. The win was also one of five awards for Darin at this year's shoot. Good shooting Darin.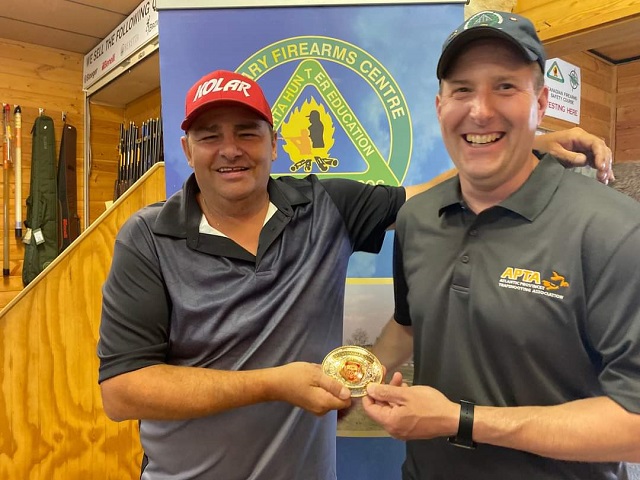 Those in attendance may have noticed someone keeping a close eye on the shooting. Barry Johnston, originally from SW Ontario but now calling Calgary, AB home, shot trap a little with his dad, Brian "Hammer" Johnston. The pair were known for doing well at the local turkey shoots. Brian always travelled with Shur Shot and Barry has continued with the tradition.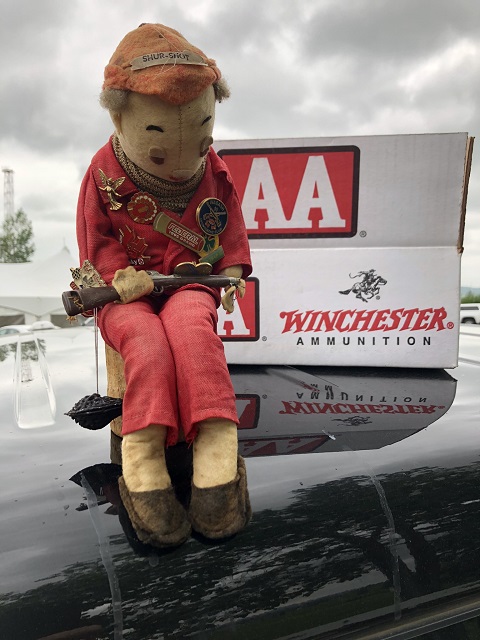 New for this year's shoot was the $5500 Canada Cap Challenge sponsored by the DVine Trap Club, Perazzi Canada, Perazzi Alberta, CLHbid.com, High Prairie A&W and Edson Fish and Game. Teams were determined from the top five scores from each province during the Clarence Durr Handicap and the team with the highest combined score would share the winnings. Congratulations to Team Manitoba who posted the winning score of 459, one target more than Alberta's 458.
Canada Cap Challenge organizers wanted to include all shooters in the provincial team competition and provinces with less than fice shooters present were to make a Team Canada. However, with only three shooters from Quebec and Atlantic Provinces not eligible for their own provincial team, these shooters were assigned to the Ontario and Manitoba provincial teams.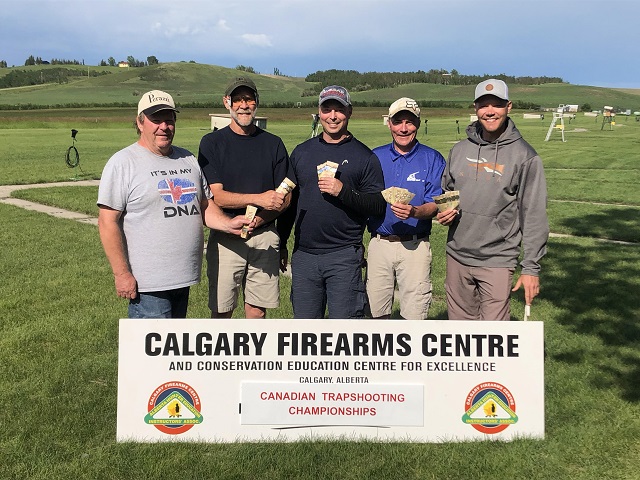 Canadian Trapshooting Association Activities
The Canadian Trapshooting Association (CTA) held their annual general meeting on Friday, July 1st. At the meeting, the board announced that Dwight Smith of Saskatchewan had resigned as President in April to focus on a health issue. The CTA delegates thanked Dwight for his many contributions to trapshooting at the national level and most notably for securing ATA recognition of our national trapshooting championships. It was mainly through Dwight's efforts that the CTA receives an ATA prize package for our championship events and the Canadian Trapshooting Championships are recognized as an ATA All American Points shoot. Dwight was elected as CTA President in 2014 and as Past President, will continue to advise the CTA Board.
The CTA also informed members of a few initiatives that they had been working on over the last 12 months. Earlier in 2022, the CTA had reintroduced the CTA All Stars to recognize the top Canadian shooters for their shooting performance. To qualify, shooters must register 1000 targets in each discipline and attend their ATA Provincial Shoot. The CTA All Stars recognizes the top 10 Canadian shooters and the High Lady (Lady I and II combined) and High Junior (Sub-Junior and Junior combined).
The CTA Hall of Fame to honour Canada's best was also established and includes a Shooter and Builder Award. The CTA was given two historic awards dating back to the early 20th century that have formed the base of the annual award. The CTA Hall of Fame Committee decided for the inaugural list of inductees, that the greats of our past and individuals that were responsible for us as an association would be considered.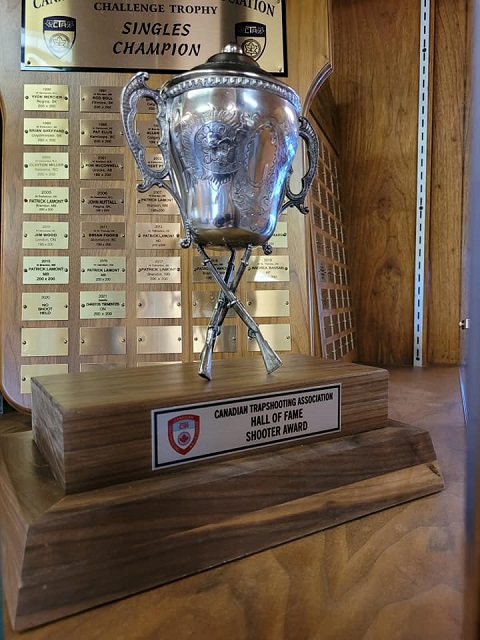 The 2022 inductees for the Shooter Award that recognizes shooters for their shooting excellence were Vera Holsworth, George Genereux, Frank Opsal, Harry Willsie and Rod Boll.
Inductees for the Builder Award that recognizes individuals for their contributions to the sport included the founding members of the CTA - Harold Herron, Thomas Oliver Jr., Don Blow, James Boa, Harold Lister, Floyd Nattrass and Neil Primrose. Also inducted was Harry Willsie.
Complete bios of all inductees are available on www.shootcanada.ca. For next year's inductees, the CTA will be taking nominations from the CTA membership who are encouraged to complete the Hall of Fame nomination form available on the CTA website.
The CTA Board confirmed at the CTA Delegate meeting held prior to the annual general meeting include:
Andrea Bassan - President and Atlantic Provinces Delegate
Dwight Smith – Past President
Godefroy Cardinal - Vice President and Quebec Delegate
Emily Brown - Secretary and Delegate at Large
Keven Mark – Treasurer
Josh Faubert – Ontario Delegate
Jason Sparwood – Manitoba Delegate
John Nuttall – Saskatchewan Delegate
Jesse Smith – Alberta Delegate
Jerry Broten – British Columbia Delegate
Randy Hunt – Delegate at Large
Janaya Nickerson – Delegate at Large
There have been a couple of changes to the CTA board since the meeting was held. BC Delegate Jerry Broten has since stepped down and Dom Stevens comes to the board to represent BC shooters. Delegate at Large Randy Hunt moves into the Saskatchewan's Delegate position while John Nuttall will continue as Saskatchewan's Alternate Delegate. The CTA would like to thank Jerry and John for their many years of service on the CTA Board and welcomes Dom and Randy as provincial delegates.
Host club negotiations are ongoing for 2023 Canadian Trapshooting Championships. Once confirmed, the dates and location will be announced on www.shootcanada.ca.
---
Shoot Results and Winners Lists
Event 1 - Preliminary Singles Results
Event 2 - Preliminary Handicap Results
Event 3 - Preliminary Doubles Results
Event 4 - Pat Lamont Doubles Results
Event 5 - Christos Tsementzis Singles Results
Event 6 - Clarence Durr Handicap Results
Event 7 - Canadian Singles Championship Results
Event 8 - Canadian Doubles Championship Results
Event 9 - Canadian Handicap Championship Results
Event 10 - High All Around Results
Event 11 - High Overall Results
For details on the Mackintosh Award click here.
The Canadian Mackintosh teams are based on scores from the Canadian Singles Championship. The 1st 100 targets are used to determine the team members and the shooter's 2nd 100 score is used to calculate the shooter's points. The Mackintosh Award is an international competition and other commonwealth countries award 3 pts for a hit on the first shoot and 2 points for a hit on the 2nd shot. For the Canadian team, 3 points are awarded for each hit.